Assign Volunteers to an Opportunity
Though volunteers typically apply for opportunities themselves, you can also assign them to opportunities.

Assign an Individual Volunteer
Use this tutorial to assign one volunteer to an opportunity. You may also use this method to assign a team to an opportunity.

1. Click on the Main Menu then Opportunities.
a. For volunteers of one of your VAC's own opportunities, click Our Opportunities.
Note: Alternatively, you can click Manage Volunteers and click Assign to an Opportunity in the dropdown menu of the desired volunteer, then select the opportunity to which you wish to assign.
b. For volunteers of a partner opportunity, click Partner Opportunities. For the desired opportunity, click on the opportunity name.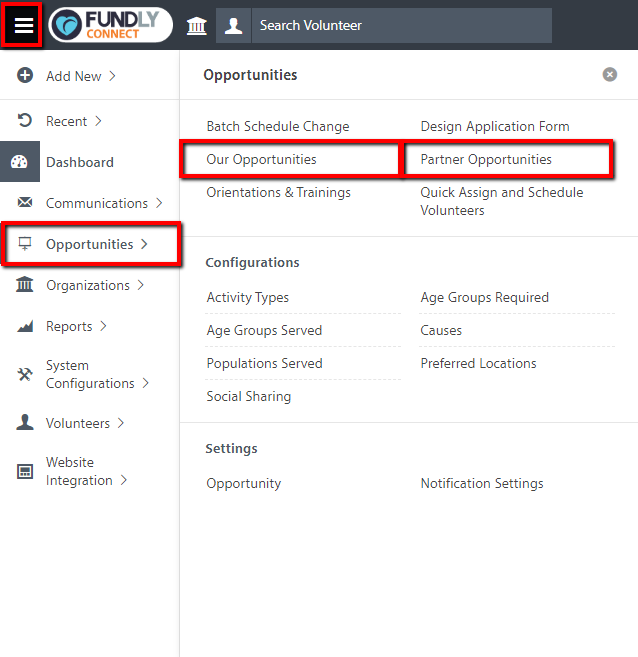 2. In the dropdown menu of the desired opportunity or at the bottom right corner of the screen, click Assign Volunteer.

3. In the "Choose Volunteer or Team" field, type the name of the desired volunteer or team.
Note: While the steps below demonstrate how to add a volunteer to an opportunity, you may also add a team.

a. If the volunteer exists in the system, their name will appear. Click on the volunteer's name.
b. If the volunteer does not exist in the system, press Enter on your keyboard. A window will open allowing you to manually enter the volunteer. If you wish to create a user account for the volunteer, set the slider to Yes; the volunteer will receive an account set-up email. Enter the volunteer's First and Last Names, Email, and Mobile Phone number. Then, click Save.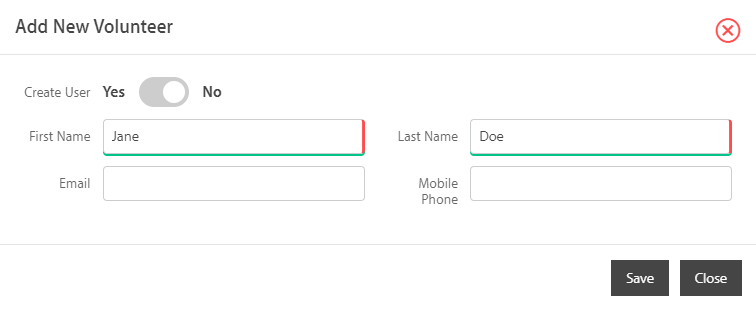 4. Click Assign Volunteer. When the process is complete, click Close.