Universities have the option to allow participants to create opportunities on behalf of their approved partner organizations.
1. Opportunities > Opportunity Settings - The university admin can toggle the 'Participant Opportunity' option if they want to allow participants to create opportunities.
Note: By default, this will be off -- participants will only be able to create opportunities when the toggle is on.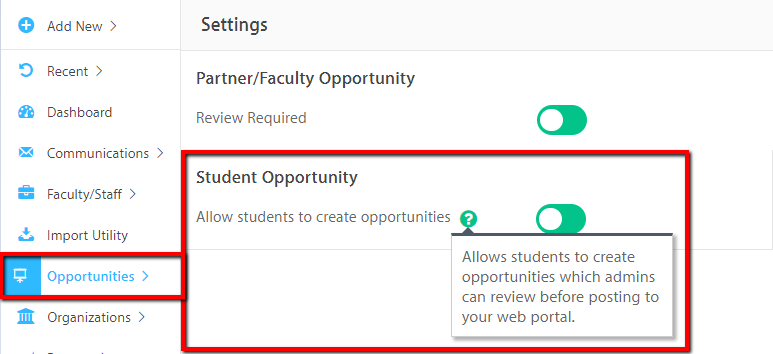 ​


2. On the participant's portal, they will see a new option under My Opportunities to "Add/Edit Opportunities".

​

3. Participants can then create either basic or advanced opportunities ON BEHALF OF partner organizations.
Note: They can only create opportunities for organizations that have been APPROVED by the university.

​

4. After the participant adds and publishes the opportunity, the university admin is notified to process the opportunity request.
The university will find the opportunity under Partner Opportunity - Approval Pending tab.
Note: By default, the Opportunity Owner is set to blank. A blank Opportunity Owner means that notifications are sent to the Organization's primary admin. Once the university approves the opportunity, they will be able to edit and set the owner.

​

5. When the opportunity is approved/rejected, the partner organization and the participant are notified.
Note: Approved opportunities can no longer be edited/deleted by the participant.