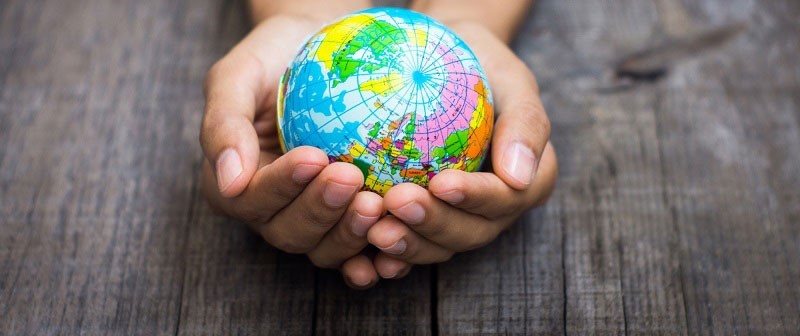 Great New Things for VolunteerEasy!
With the release of a new build, users may experience some irregularities in their VolunteerEasy account such as the appearance of strange code, blank screens/modules, lack of word wrapping, etc. These issues are related to the need to clear your browser cache and/or to log out and back in to the system in order to get the new updates. If you continue to experience difficulties after clearing your cache and re-logging in, please email us at support@fundly.com.

For Volunteer Action Centers and Universities, as many of you have requested, we are no longer sending the newsletter to your partner organizations. You can forward/copy this as you see fit.



Something New For You!



Today, we have released a new feature for VolunteerEasy that we think you're going to really enjoy.
Changes to Deactivating Volunteers

Changes to the Publish Opportunity Step**

Notification for Existing Participant/Organization Signup**

User Security on Documents
**Applies to VACs and Unis only. No change for Nonprofits

Read on for all the details! And after you've checked out all the new features, drop us a line at support@fundly.com to let us know what you think!
Changes to Deactivating Students

We have added a confirmation pop-up when deactivating a volunteer. Deactivating a volunteer will remove all future schedules and remove them from communications.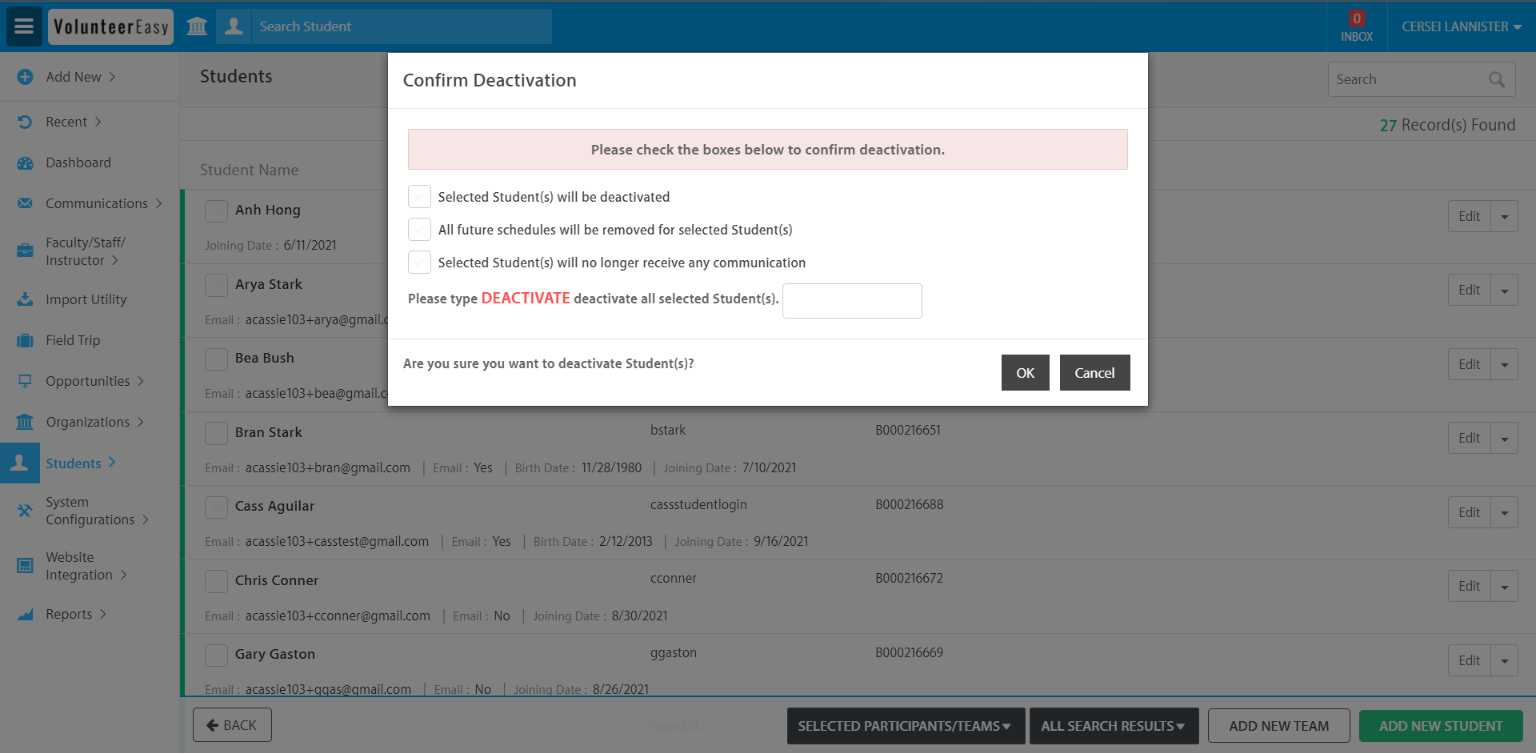 Note: If a schedule is added for an inactive volunteer, the volunteer will automatically become active.
Changes to the Publish Opportunity Step

We have made changes to the Publish step when creating an opportunity.
For partner organizations, the section on top will be the Publish to Action Center/University.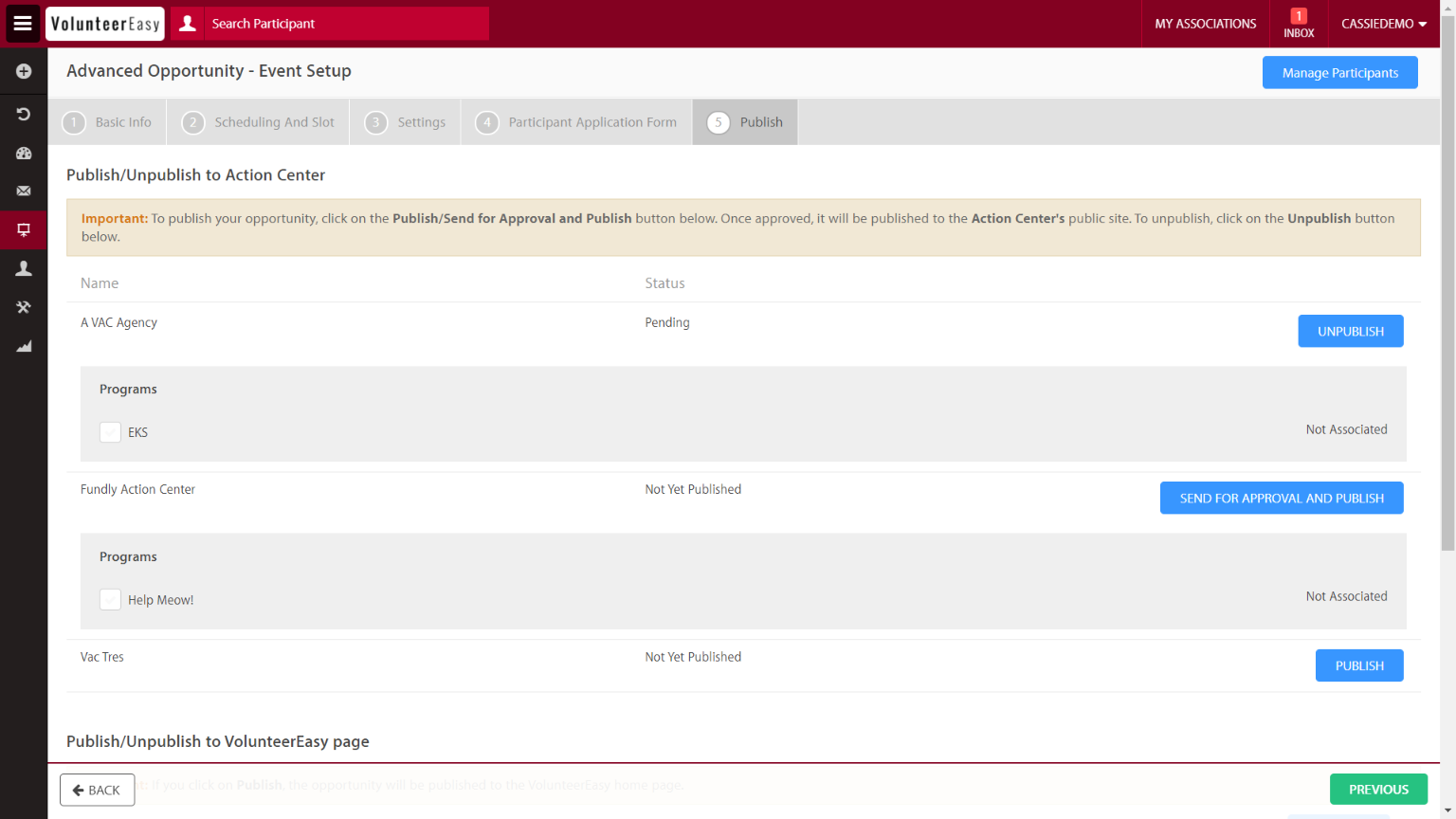 The Status column will display the current status of the opportunity.
Not Yet Published

- Opportunity is not published online

Pending

- Opportunity is awaiting VAC/University approval before it is published online

Posting Accepted and Published

- Opportunity is approved and published online
The buttons next to the VAC/University will be the next step to publishing the opportunity.
Publish

– To automatically publish the opportunity to the VAC/university without the need of approval

Send for Approval and Publish

– To send the opportunity for approval and publishing to the VAC/university

Unpublish

– To unpublish the published opportunity

At the bottom will be the section for publishing to our VolunteerEasy page - https://www.volunteereasy.com/Opportunities#/.

Click the Publish button to publish the opportunity to our home page. If you want to publish at a future date, change the Publish Date then click Publish.

For more information on creating opportunities, click here.
Notification for Existing Volunteer/Organization Signup

In the past, the VAC or university is not notified when a participant or a partner organization, who already has a profile, registers and creates their account.

We have enabled the Signup notification for this scenario so the admin is notified when a user, who has an existing profile registers and creates an account.
User Security on Documents

We have added a new configuration to application roles for security on document.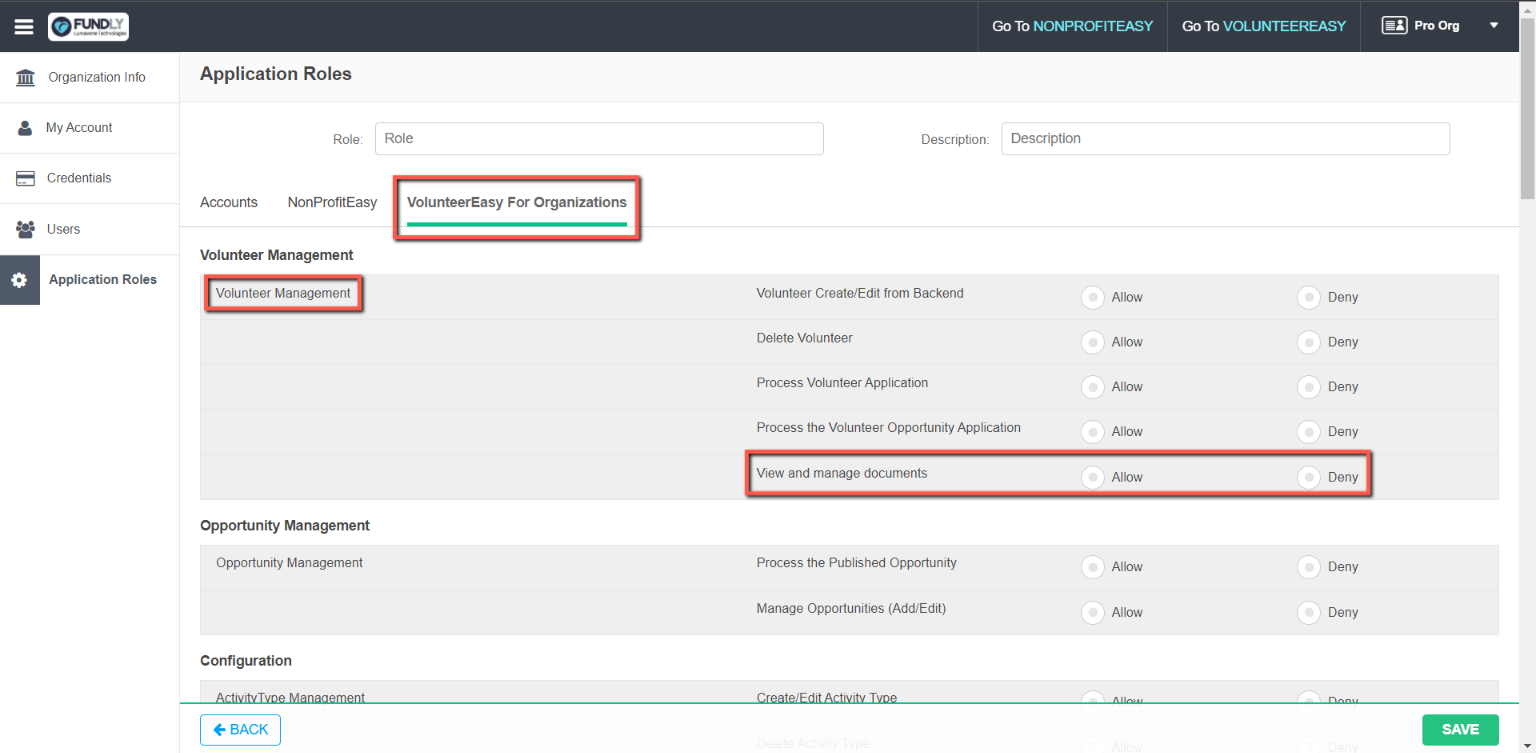 If a user role is denied access to view and manage documents, the user will not be able to open the document.

Note: Documents only pertain to uploaded documents, and doesn't include consent forms and agreements.