New Release News 2021.1 - January 20, 2021
Great New Things For NonProfitEasy!

Our Best New Features for You!


Today, we have released a bunch of tweaks and enhancements to NonProfitEasy (v2) related to our Text-to-Donate functionality:

Text-to-Donate Page Changes:
Ability to Link Text-to-Donate Donations to Events

Text to Donate Dashboard Metrics Clickable
Text Blast Changes:
Edit Message on Resend Text Blast

Internal Notification for Text Blast

Sent Text Blast Metrics Clickable
Take Action Menu Changes:
Bulk Update Communication Preferences Changed

Bulk Update Phone Type Added
Advanced Search and Reporting Changes:
Phone Communication Preference Added to Advanced Search

Text-to-Donate Fields Added to Advanced Search

Text-to-Donate Fields Added to Reporting
View Contact Changes
Phone Number Verification Status Added
Read on for all the details! And after you've checked out all the new features, drop us a line at support@fundly.com to let us know what you think!
(if images are not displaying correctly in this email, you can find a copy of this newsletter in the Newsletter section of our CRM v2 Support Library)
| | |
| --- | --- |
| | Text-to-Donate Page Changes |

We've added a couple of enhancements to the Text-to-Donate pages:

We've added an Event field to link your Text-to-Donate page to an Event so that every donation coming in via this page will be automatically linked to the event. This will be handy when using Text-to-Donate to receive donations during a fundraising event (including virtual events - Text-to-Donate is a quicker way for attendees/viewers to make a donation than having them navigate to your online donation form).

The Text-to-Donate Dashboard metrics are now all clickable - which will bring up the drill down details.
| | |
| --- | --- |
| | Text Blast Changes |

And a few changes to Text Blasts...

When using the Resend Text Blast function from Main Menu: Communications: History, we've added the ability to edit/change the text message being sent (previously this could only be accessed by saving the resend text blast as a draft/to the pending communications tab and then editing the pending blast).

We've added an internal notification that will be sent to your system admin when a text blast batch finishes sending (similar to other batch communications).
And, finally, we made the # Clicked and Total Raised metrics on the sent Text Blast Summary clickable (Main Menu: Communications: History: click Summary from the drop down to the right of any sent Text Blast).
| | |
| --- | --- |
| | Take Action Menu Changes |

Previously, communication preferences for e-mail, phone, and mail could only be updated simultaneously - that is, all three were required to be set when using the Take Action menu to update communication preferences in bulk. Now, we've made a change to the Take Action menu so that you can change a single communication preference for all the selected contacts.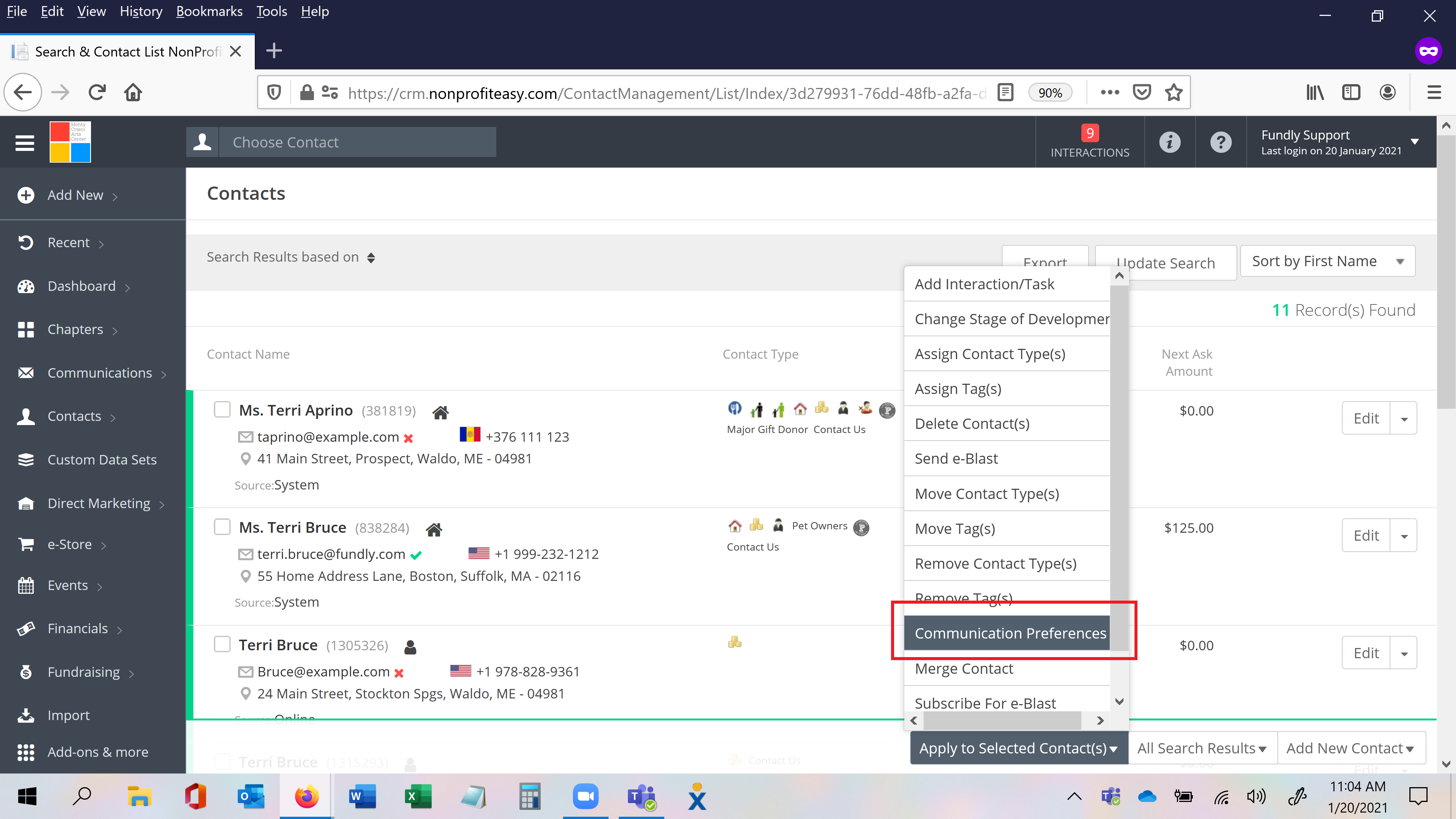 Additionally, we've added the ability to update the "Phone Type" field in bulk via the Take Action menu (at the bottom of the search results screen).
| | |
| --- | --- |
| | Advanced Search and Reporting Changes |

We've added the Phone Communication Preference field (Communication Preference category) and the Contact Responded to Text-to-Donate e-Blast fields (to the Gift Information category) to Advanced Search.

We've added the Text-to-Donate Metrics fields to reporting (Communications category) as well.

| | |
| --- | --- |
| | View Contact Changes |

When a Text Blast is sent to a phone number (via our new Text-to-Donate function), the system determines if the message was delivered (valid phone number) or undeliverable (invalid phone number). That status will now show on the screen (as a green check mark or red X over the phone number), similar to how the validation status for email addresses shows.

We are committed to ensuring a great user experience with our products and services and are continually striving to ensure our products meet the evolving needs of our customers. As always, we offer a variety of support options, including a tutorial library, daily webinars (fundlyevent.com), live help drop in sessions, and email support (support@fundly.com).

If you'd like to suggest a webinar or training topic, submit it at fundlyevent.com (there's a link at the top of the page).


If you enjoy our CRM, please consider leaving a review on Capterra.com. To leave us a review CLICK HERE.

If you would also allow us to post a quote from you along with a headshot on our website, please contact us at support@fundly.com.
Copyright © 2020 Fundly LLC, All rights reserved.
You are receiving this email communication as a valued opt-in CRM user.