September 3, 2019 - New Release News
Great New Things From Fundly CRM!
With the release of a new build, users may experience some irregularities in their CRM or Connect account such as the appearance of strange code, blank screens/modules, lack of word wrapping, etc. These issues are related to the need to clear your browser cache and/or to log out and back in to the system in order to get the new updates. If you continue to experience difficulties after clearing your cache and re-logging in, please email us at support@fundly.com.

Our Best New Features for You!



Today, we have released changes to Newsletters (now called e-Blasts) for Fundly CRM v2 that we think you're going to really like! We have updated the tutorials related to sending newsletters (renamed to e-Blasts in the support library as well), which can be found in the communications section of the support library. In particular, e-Blast (Newsletter) Part II: Send e-Blast covers all of the new changes to sending a newsletter/e-Blast, and we encourage users to read it before using the new e-Blast function to become familiar with the changes. Additionally, we will offer a webinar/training session on using e-Blasts on Wednesday, September 4th at 11:00 am PT/2:pm ET (click the link to register).

e-Blasts changes include:
newsletters renamed to e-Blasts
changes to how e-Blast/newsletter recipients are selected
ability to send e-Blasts/newsletters to contacts whose communication preference for e-mail is not set to Yes
ability to resend newsletters to original recipients
ability to send a previously sent e-Blast to new recipients
ability to manually include or exclude particular contacts
changes to the Send E-Mail function inside Fundly CRM v2

Read on for all the details! And after you've checked out all the new features, drop us a line at support@fundly.com to let us know what you think!
(if images are not displaying correctly in this email, you can find a copy of this newsletter in our CRM v2 Support Library)
Newsletters Renamed e-Blasts

The newsletters function inside Fundly CRM is now called e-Blasts. We've renamed it to e-Blasts to make it clearer that this function can be used for all types of mass communication, not just newsletters (and can be sent to anyone in your database, not just those who are on one of your newsletter/"subscriber" lists).

You'll find e-Blasts in the Communications section of the Main Menu and all of your newsletter templates will still be there (the category name is now renamed to e-Blasts as well).


On the Take Action menus, you'll find the Send Newsletter function has been renamed to Send e-Blast as well.


In Advanced Search, you will find a new table/category for e-Blasts...


And in Reporting, you will find e-Blast related fields/metrics in the Communications: Newsletter Statistics category.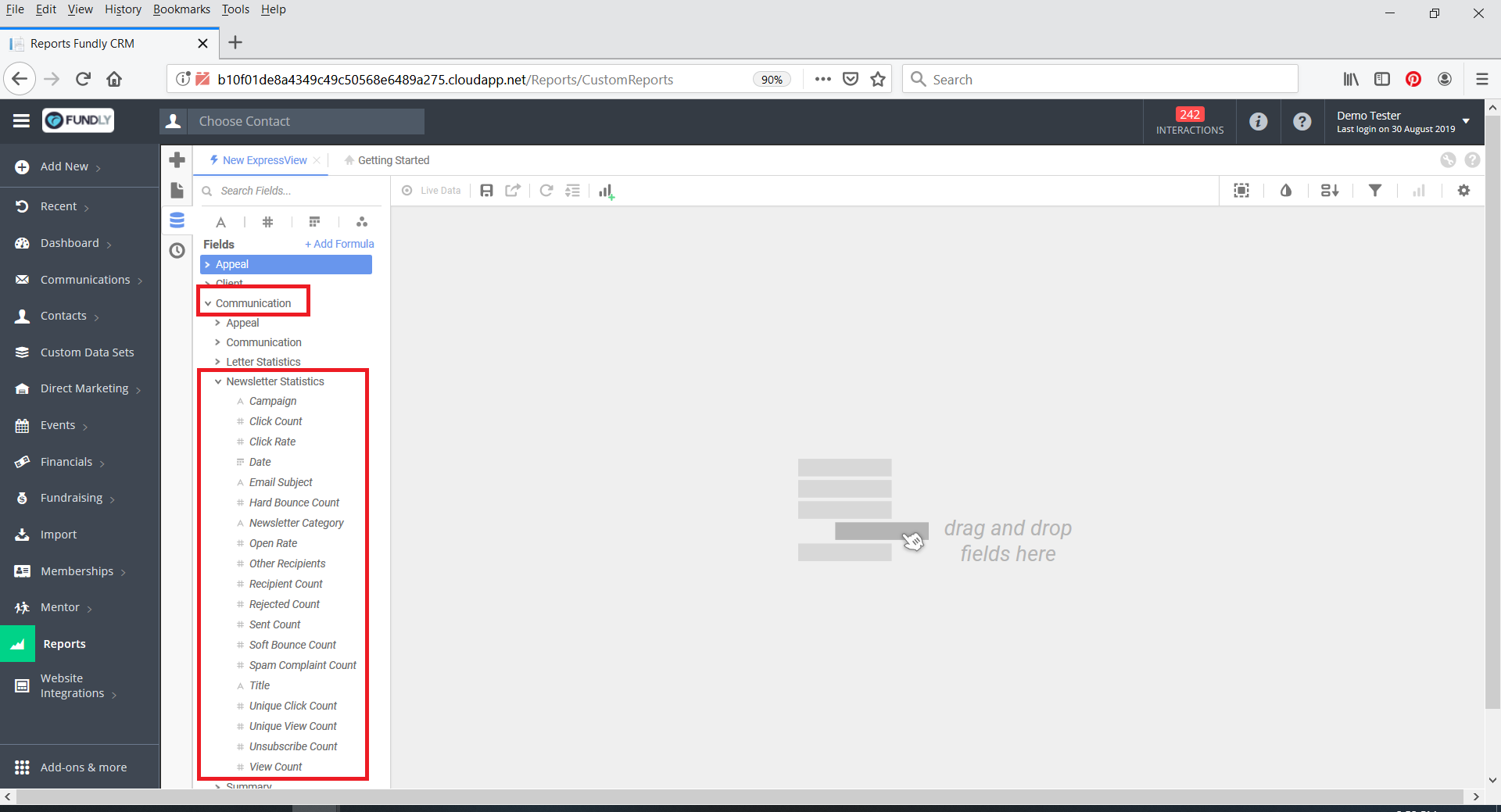 Change to How Recipients are Selected for e-Blasts


The biggest change to the newsletters/e-Blasts function can be found on how recipients are selected. Formerly, newsletter recipients had to be subscribed to a newsletter list and that list had to be selected in order for the contacts to receive the newsletter.


Now, however, this is no longer the case. All contacts with a valid e-mail address (and who are not deceased/inactive) can be sent an e-Blast, regardless of newsletter subscription status. On Tab #1 of Create e-Blast, the "newsletter category" drop down has been removed.

Instead, now, on Tab #2, by default, all eligible contacts are pulled into the newsletter on your inclusion and exclusion tabs. The user can use the Advanced Search interface to add filters/criteria that will be used to select the recipients. You can use whatever criteria you want - contact type, contact tag, custom data set information, past giving history, membership status, and more.

If you wish to send your e-Blast to one of your newsletter lists, you can do that by setting a criteria for e-Blast category equal to X category as shown in the screen shot below.

Users can also manually add contacts/recipients using the Add Recipient field.


Ability to Send e-Blasts to Those With Communication Preference Set to No

Previously, newsletters could only be sent to those whose communication preference for e-mail was set to Yes. Now, however, those who meet the filter criteria set by the user whose communication preference for email is set to "No" or "Not Set" will appear on the "exclusion" list on Tab #2 of Create e-Blast. Users can then manually add these contacts to their recipient (inclusion) list, temporarily over-riding the recipient's communication preference by clicking the "Include" button to the right of the name. This will allow users to send important e-mails to contacts whose communication preference for e-mail was not previously set or who have not subscribed to your newsletter.


Ability to Resend e-Blast to Original Recipients

With this release, we have added the ability to resend e-Blasts to the original recipients, with the ability to exclude those who opened and/or clicked a link in the prior version they were sent. The Resend function is a great way to increase your open/read rate for e-communications. You'll find the resend option on Main Menu: Communications: History. Click the drop down to the right of the e-Blast and select Resend.

The e-Blasts (Newsletter) Part III: Resend e-Blast tutorial covers how to use the resend feature and includes some best practice guidance on resending your e-Blast to those who didn't open the first copy in order to increase your open/read rates.

Ability to Send Previously Sent e-Blast to New Recipients

Another exciting new feature that we've added with this release is the ability to copy an e-Blast - not just the master template, but the content that was previously sent as well - and send it to new people! You'll find this ability when sending an e-Blast from the Take Action Menu at the bottom of the Search Results screen. Select "Use Existing e-Blast" from the toggle/slider to copy a previously sent e-Blast content file/e-mail.


Because you are sending the e-Blast from the Take Action menu, you will have already selected your recipients based on your search results. Clicking the Process button will take you into the Send e-Blast flow/screens, where you will be able to further modify the recipient list using the filters/criteria, manual inclusion/exclusion, and the Add Recipient functions.


Ability to Manually Include & Exclude Recipients

In addition to the ability to select recipients based on filters/mass criteria and to manually add individual recipients using the Add Recipient button, users can manually move contacts from the inclusion list (those that meet the filter criteria or were manually added) to the exclusion list and vice versa (move those who met the filter criteria but whose communication preference for e-mail is not set to Yes and/or those who were manually added to the exclusion list to the inclusion list). On Tab #2 of Send e-Blast, the user can click the Exclude button (when on the inclusion list) or Include button (when on the exclusion list) to manually move contacts from one list to the other, giving users much more control of who receives each e-Blast.

Changes to Send E-Mail Function Inside Fundly CRM v2

We have made a couple of changes to the Send E-Mail function inside Fundly CRM v2 as a result of the changes we have made to e-Blasts. Since sending an e-Blast is no longer dependent on the contact being subscribed to a newsletter category (or having their communication preference for e-mail set to "yes"), it is now easier than ever to send e-mails to contacts using the e-Blast function. As such, we have tightened controls on the Send E-Mail function so that it can only be used for "one off" communications to individual contacts, rather than group emails. All group/bulk emails should be sent using the Send e-Blast function.

Now, the "To" field of the Send E-Mail pop-up window will no longer allow the user to add multiple names/email addresses; instead, when you click on an e-mail address to bring up the send e-mail function, the "To" field will auto-populate with the selected contact's name & email address and there will be no ability to manually enter more names/addresses.
Additionally, we have removed the Templates drop down from the Send Email screen as well. In the first screen shot below, you will see the previous version of the Send E-Mail screen with the templates options. The second screen shot shows the new Send Email screen with the Templates drop down and Save as Template checkbox removed. Your Send E-mail templates will have been saved and can be found in the Communications Template Manager area (Main Menu: Communications: Create New Communication); however these templates will not be usable with the Send E-mail function; they have been preserved/added to your templates area as historical reference only. For any e-mail communications that require a template/form letter/a standard script or text, you should use the e-Blast function where you can set up a master template to use over and over.

We are committed to ensuring a great user experience with our products and services and are continually striving to ensure our products meet the evolving needs of our customers. As always, we offer a variety of support options, including a tutorial library, daily webinars (fundlyevent.com), live help drop in sessions, and email support (support@fundly.com).

If you'd like to suggest a webinar or training topic, submit it at fundlyevent.com (there's a link at the top of the page).


If you enjoy Fundly CRM and/or Fundly Connect, please consider leaving a review on Capterra.com. To Leave us a review Click Here.

If you would also allow us to post a quote from you along with a headshot on our website, please contact us at support@fundly.com.