Important Update From Fundly CRM Regarding 2019 Pricing and Terms of Service...
We at Fundly wish you the best for a strong finish to 2018. Hopefully all of you were able to get to your targets for Giving Tuesday and are off to a strong start as you race to get to your year-end fundraising goals. We at Fundly are here to help, whether it is by giving you some of the most comprehensive tools to send out your eAppeals with One Click Donations or to run your year-end reports.
For those of you that have been with us from the inception, you know that we listen very closely to what your feedback is and what your needs are. With your help and your knowledge and guidance, Fundly today has the most comprehensive tools available for any nonprofit out of the box. While there have been times when we have come up short of your expectations or not lived up to our expectations, our intentions have always been to be a worthy partner of yours.
As we continue to add tools that will help you manage and scale your nonprofit even better, it became imperative that we take a look at how we can best achieve that. There are a few pricing changes that we will need to make in order to continue to deliver the most comprehensive set of functionality for nonprofits. We have outlined below the major changes coming your way in January of 2019. 
We will no longer be supporting a monthly subscription plan. You will continue to have the ability to pay monthly. However, on you first renewal date in 2019, you will be asked (via a pop-up window that will appear when you log into Fundly CRM) to choose the length of your subscription.
We are introducing annual, 2-year and 3-year plans. We want to help you grow and scale without having to worry about the costs associated with the scaling. With that in mind, Fundly will lock in your Pricing and Subscription Plan (based on number of contacts) for the duration of the subscription period you choose. So, for example, if you are currently at 4,000 contacts and have our Easy Start Plan (maximum of 5,000 contacts), you will have the ability to lock this in for a period of one, two or three years. This means that if you go from 4,000 contacts to 10,000 contacts, Fundly will let you keep your Easy Start Plan for the Subscription Period you have chosen. That is a pretty sweet deal. Now you can focus on growing your supporter base instead of worrying about how much that is going to cost you.
Fundly CRM and Connect pricing will be increasing in 2019. However, for our existing clients, we will grandfather your current pricing for the Subscription Period you choose. If you decide to lock your pricing for 3 years, not only will you keep the same pricing, but you will also no longer be required to upgrade to the next plan level just because you hit your max contact limit. So, for 3 years, you do not have to worry about pricing or the size of your database. We call that a New Year's gift!!!
At this time, you do not need to do anything. On your next Fundly CRM subscription renewal date, when you log into Fundly CRM, a pop-up window will appear asking you to select a one-, two-, or three-year subscription period. For our clients currently on a monthly plan and those on an annual plan that renews in January, you will see this pop-up window in January. For all others, the pop-up will appear on your subscription renewal date.
If you want to check your contract renewal date, click on your user name in the upper right hand corner of Fundly CRM (the support/account menu) and select Account from the drop down, then click My Account from the menu on the left.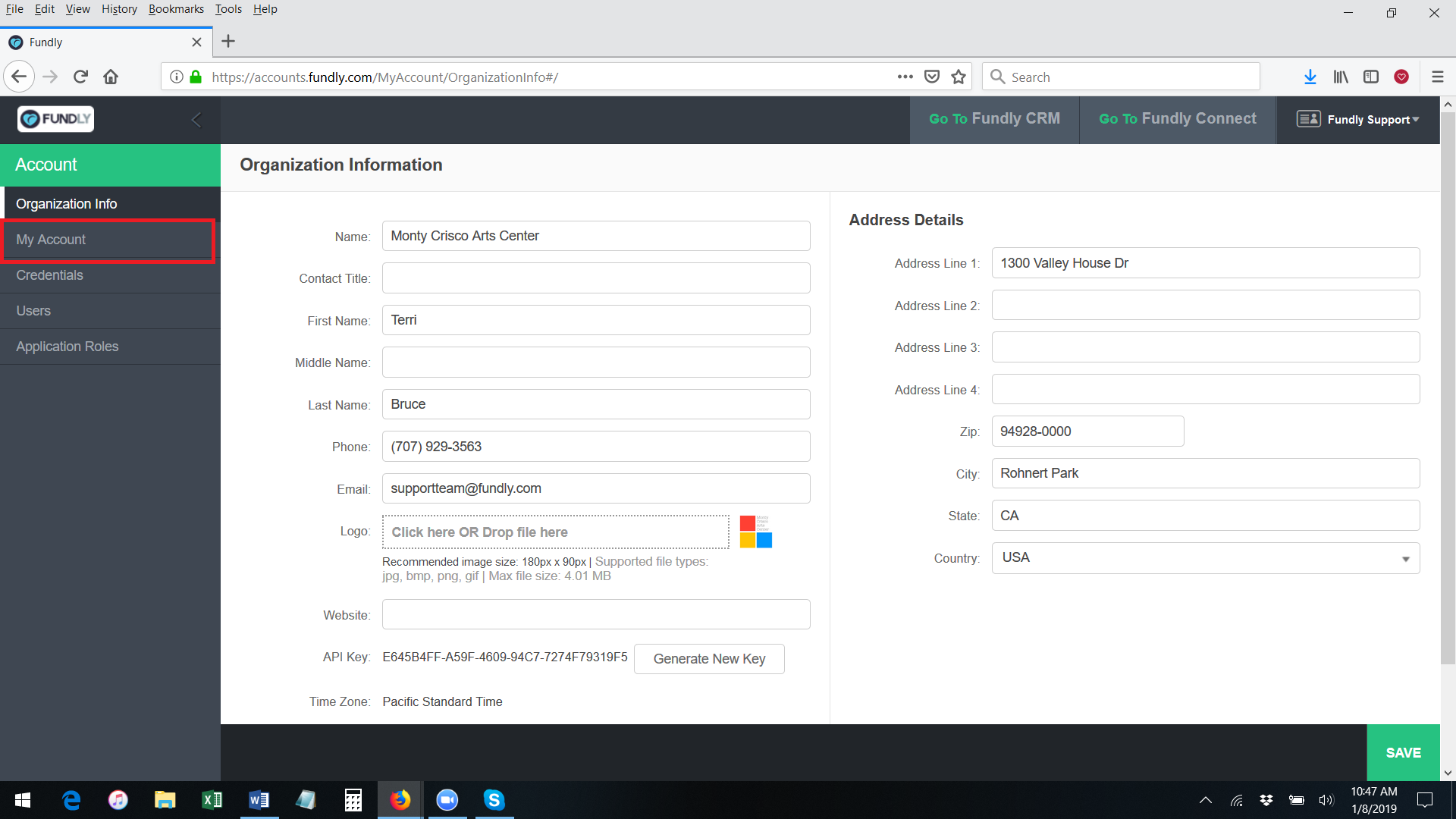 On the My Account page, you'll be able to see your renewal date.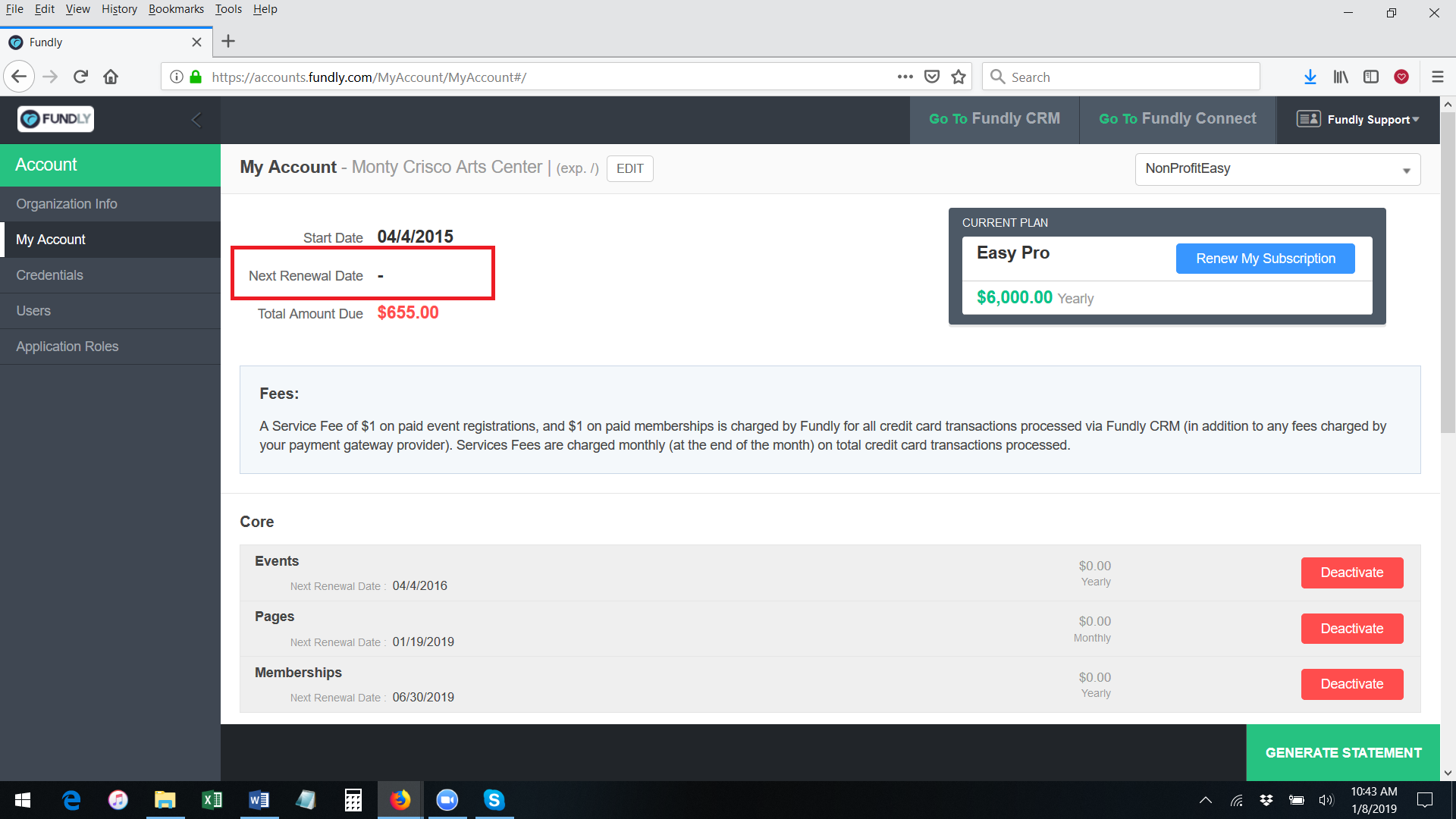 You can renew early if you so wish; click the Renew Subscription button on the right to renew your CRM subscription and lock in your current pricing for 1, 2, or 3 years.
PLEASE NOTE: Any discounts applied to your subscription plan show on Step #2 of the renewal process, AFTER you select the length of term and the payment schedule (monthly or annual).
These changes will also allow us to focus on bringing even more value to your organization. We have a lot of really nice upgrades planned for 2019 (a lot based on your feedback and feature requests). We are looking forward to helping each and every one of your organizations accomplish your mission.
Please reach out to us at support@fundly.com if you have any questions.