February 4, 2019 New Release News
Great New Things From Fundly CRM!

Our Best New Features for You!

 

Today, we have released our new SMART DASHBOARDS for Fundly CRM v2!!! Read on to find out all the details!

CRM:
Smart Dashboards
New Webinar Recordings

Read on for all the details! And after you've checked out all the new features, drop us a line at support@fundly.com to let us know what you think!
(if images are not displaying correctly in this email, you can find a copy of this newsletter in our Connect and CRM v2 Support Libraries)
With the release of a new build, users may experience some irregularities in their CRM or Connect account such as the appearance of strange code, blank screens/modules, lack of word wrapping, etc. These issues are related to the need to clear your browser cache and/or to log out and back in to the system in order to get the new updates. If you continue to experience difficulties after clearing your cache and re-logging in, please email us at support@fundly.com.
New Smart Dashboards

Smart Dashboards are here!

Smart Dashboards are advanced, interactive dashboards for Fundraising/Donations, Events, and Memberships. The Smart Dashboards are more advanced and flexible than the Basic Dashboard, have more data points/metrics than the Basic Dashboard, more filters than the Basic Dashboard, and allow exporting (to Excel) of both summary and drill down data.
 

Each Smart Dashboard has a variety of filters that you can use to drill down into your data.
 

In addition, you can change the sort order of the data and/or the field being sorted on and even export the data (to Excel or csv format).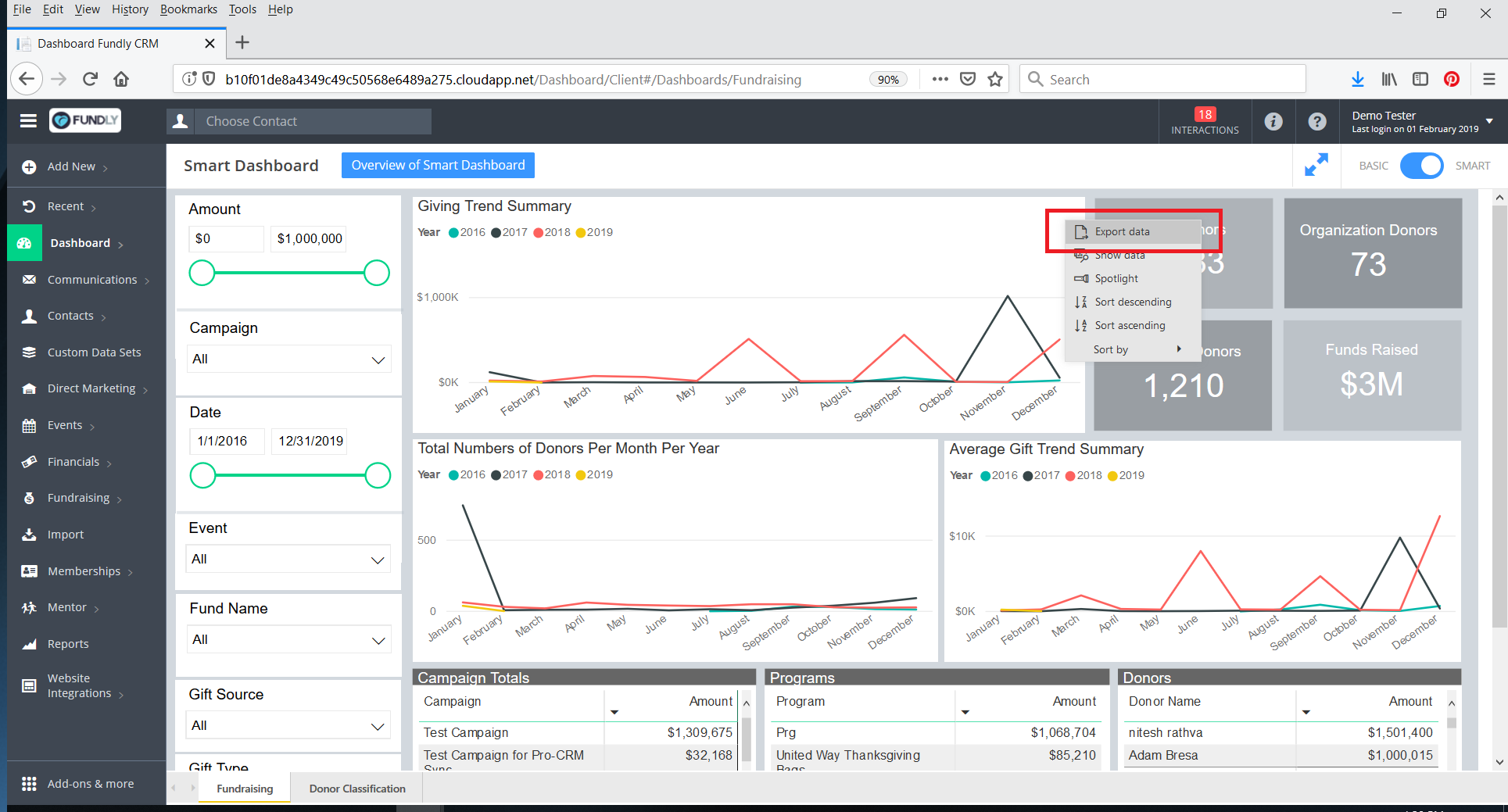 Smart Dashboards are a paid add-on; pricing varies by Fundly CRM subscription level (price ranges from $10 per user per month to $30 per user per month). All users can try Smart Dashboards for free for 15 days. To get started/to activate your free trial, choose Dashboard from the Main Menu and then click on "Try Now" in the upper right (go on, give it a try! There's no risk or obligation. At the end of the 15-day trial period, your free trial will expire. You will only be charged if your system administrator activates a paid account for you).
 

You can learn more about the full functionality of the Smart Dashboards by viewing the tutorials in the new "Dashboard' category of the support library. We've also added tutorials on the Basic Dashboard in the same section of the support library. We also expanded the "Donation Tips" reporting tutorial to include an explanation of the Donor Categories (which are used on the Basic Dashboard and the Donor Classification Smart Dashboard and also can be used as a filter in e-Appeals and be used in reporting). You can find the definitions on this tutorial, starting with step #11.

We're holding a webinar on using the new Smart Dashboards on Tuesday February 12th at 11:30 am PST/2:30 pm EST. You can register at Fundlyevent.com.
New Webinar Recordings


For those who missed our recent webinars, we've added recording of those to the support library:
We are committed to ensuring a great user experience with our products and services and are continually striving to ensure our products meet the evolving needs of our customers. As always, we offer a variety of support options, including a tutorial library, daily webinars (fundlyevent.com), live help drop in sessions, and email support (support@fundly.com).

If you'd like to suggest a webinar or training topic, submit it at fundlyevent.com (there's a link at the top of the page).
 

If you enjoy Fundly CRM and/or Fundly Connect, please consider leaving a review on Capterra.com. To Leave us a review Click Here.

If you would  also allow us to post a quote from you along with a headshot on our website, please contact us at support@fundly.com.