Verified Volunteers
The screening process and tracking of volunteers is easier with our integration with Verified Volunteers. You will initiate the background check from our volunteer management database which will submit a request to Verified Volunteers.
Note: Integration with Verified Volunteers is an add-on feature..
Integrating Account
Initiating Volunteer Background Check

Pending Volunteers
Registered Volunteers

Background Check Status
Verified Volunteer Status as Search Criteria
Sharing Verified Volunteer Status With Partner Organizations
Integrating Account
1. To use this functionality you'll need to have an account with Verified Volunteers. To integrate account, click on the 'Verified Volunteers' link from main menu. On the configuration page, add your Verified Volunteers account details like Username, Password and PackageIds, then hit Save.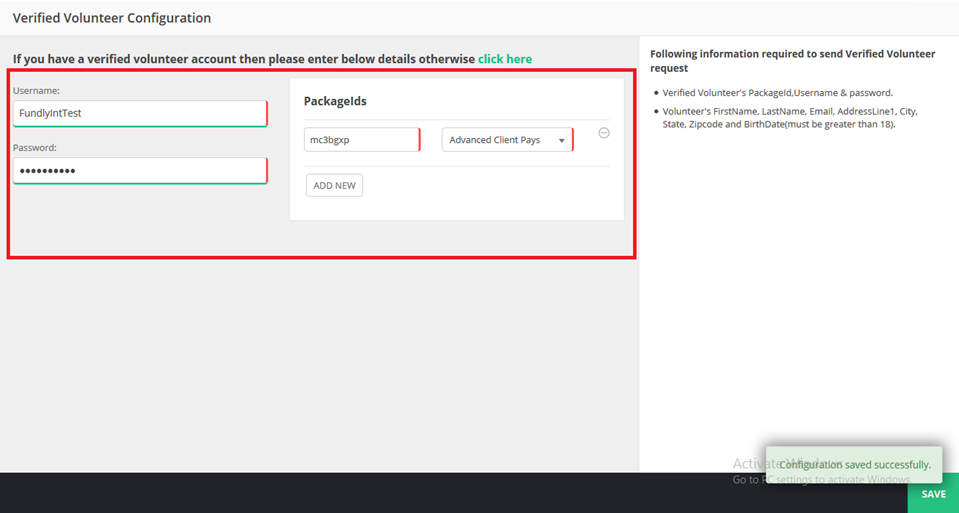 2. If you don't have a Verified Volunteers account, we have provided an option to send a request email to setup an account from within the system. Just click on the link to create a request.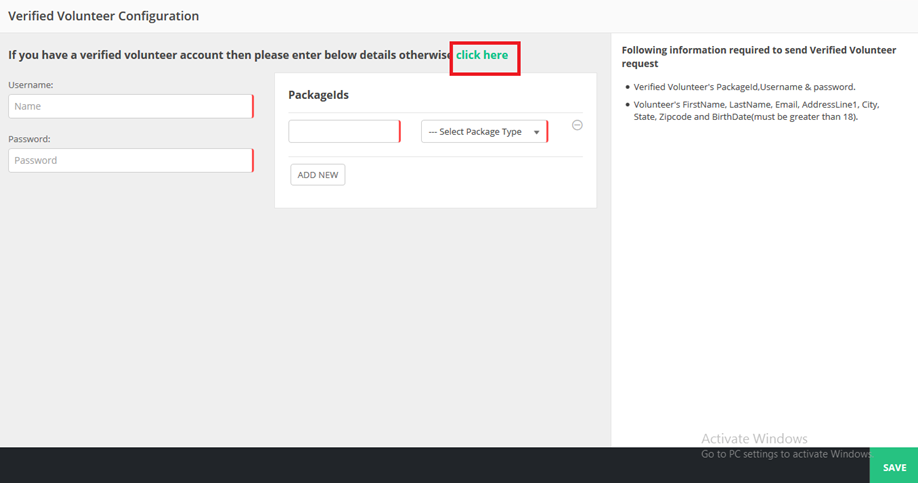 3. It will open a popup where you'll need to fill in the required information, which you'll submit to the Verified Volunteers' team. Once your Verified Volunteers account is set up, then you'll need to go back to the configuration page and enter the information like in step 1.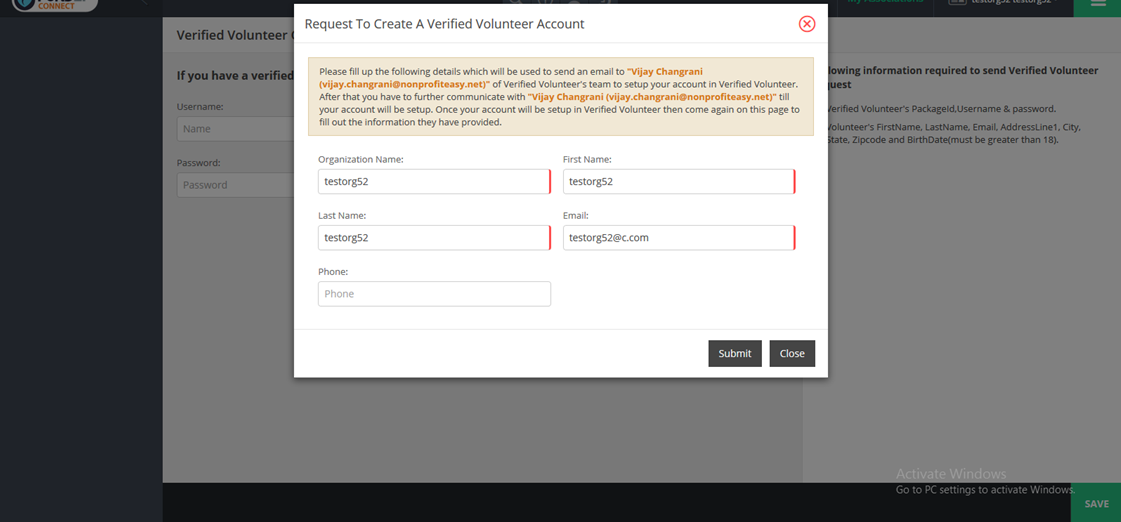 Initiating Volunteer Background Check
After integration, you can now request for a background check of your volunteer(s). There are two instances of when you can do a background check -- while the volunteer is pending or when volunteer is already registered.
The organization has the ability to review volunteers who apply for their opportunity. On this step, you can also add an option to do a background check for the volunteers before you approve/reject them.
In order to create that flow, configure the opportunity to "require approval for volunteer applications" as well as "require background check for volunteer".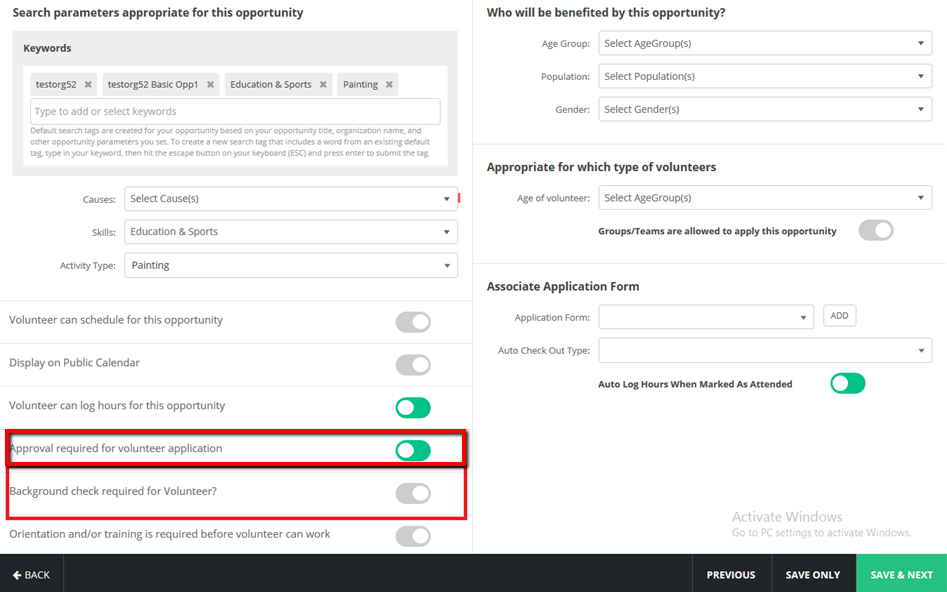 Once you do that, all volunteer applications are added to the opportunity's pending list.

On that list, you'll have the option to do the background check for the pending volunteer.


Once the background check request is submitted, you'll see the the status once it's updated. After your review, you can now accept or reject the volunteer as needed.

You can also initiate background checks for volunteers already in your database. There are two ways on how to do this from your volunteer list page:
1. Initiate for One Volunteer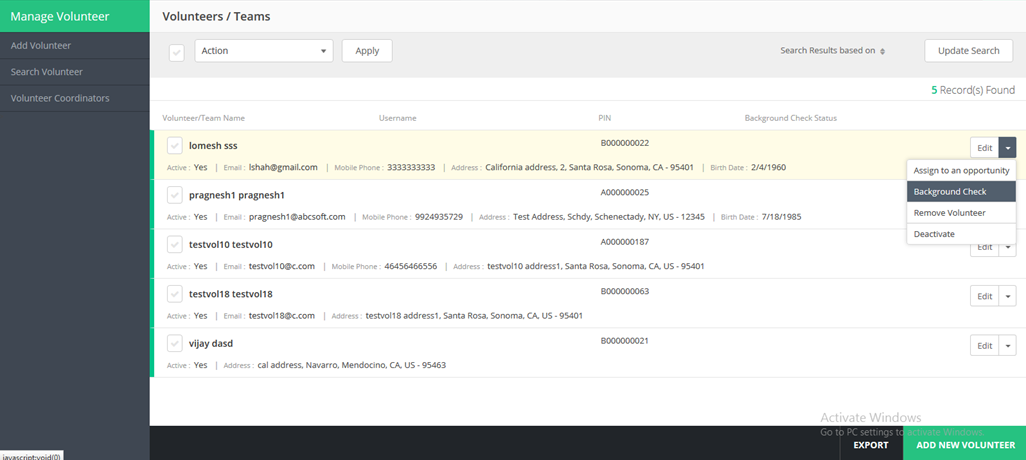 2. Initiate for Multiple Volunteers

Background Check Status
After submitting the background check request, it may display an alert if there is lacking volunteer information (First Name, Last Name, Email, Address Line1, City, State, Zip Code and Birth Date(must be greater than 18)), which would mean that the request failed. It will display "Missing Information" message under the status for that volunteer.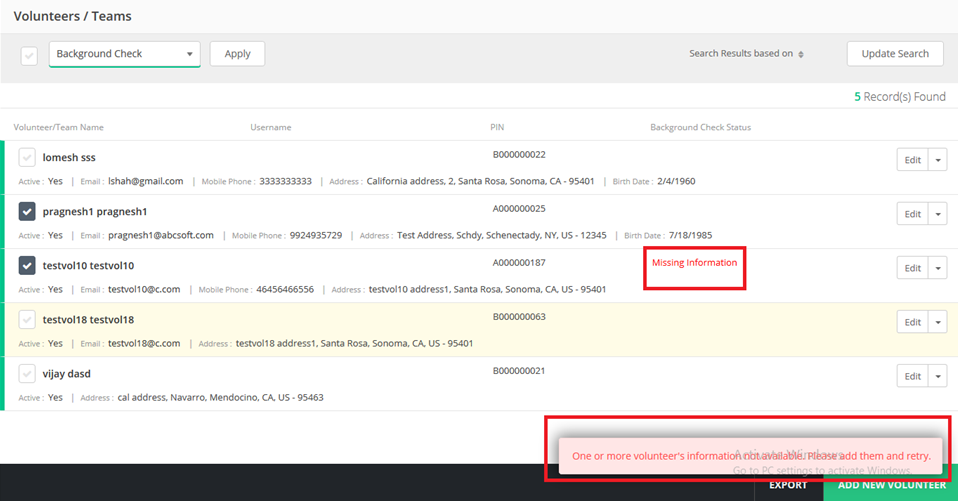 After the volunteer's record is corrected, you must again submit the request for a background check. It will display a "Pending" status if submission has been successful.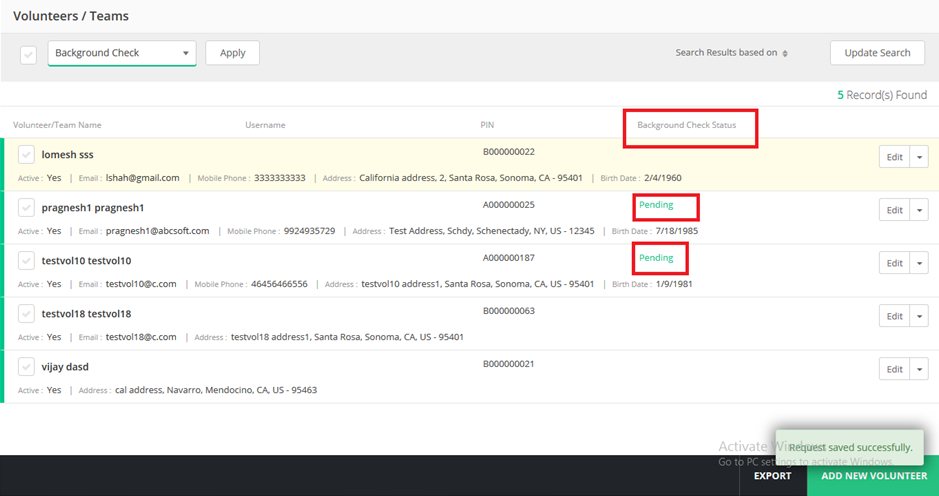 After submitting, our background check service, which runs every 5 minute, will pickup the "Pending" status and submit to Verified Volunteers. It will return either "New" for successfully submitted or "Failed" status if anything is still missing.

When clicking on the status, it will open a popup which would show you the history of background checks, along with their processed date and responses.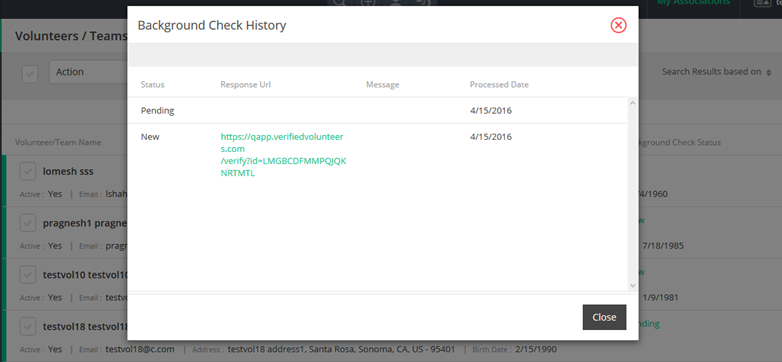 The response URL will be used by the volunteer to create their account with Verified Volunteers, where they'll need to fill out necessary information for the background check. This URL is also sent to the volunteer by Verified Volunteers via email.
Once the volunteer completes the setup of their account with Verified Volunteers, their status will be changed to "InProgress" and then it would be the responsibility of Verified Volunteers to do further background check. They will then send us different status like "Adjudicated-Eligible", "Adjudicated-Ineligible", "Complete-Clear", "Complete-Consider".
Volunteer Dashboard
The volunteer will be able to view their background check status from their dashboard.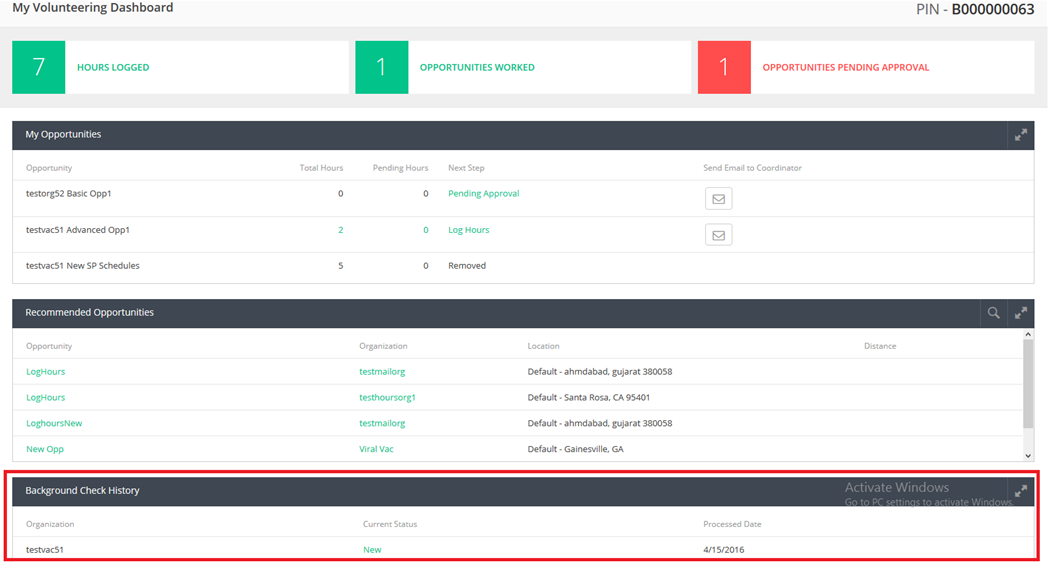 Sharing Verified Volunteers Status With Partner Organizations
The partner organization can view a volunteer's background check status if the volunteer is associated with both partner organization and VAC. This will be the case only if the partner organization does not have a Verified Volunteers account and the volunteer is verified by any of the partner organization's VACs.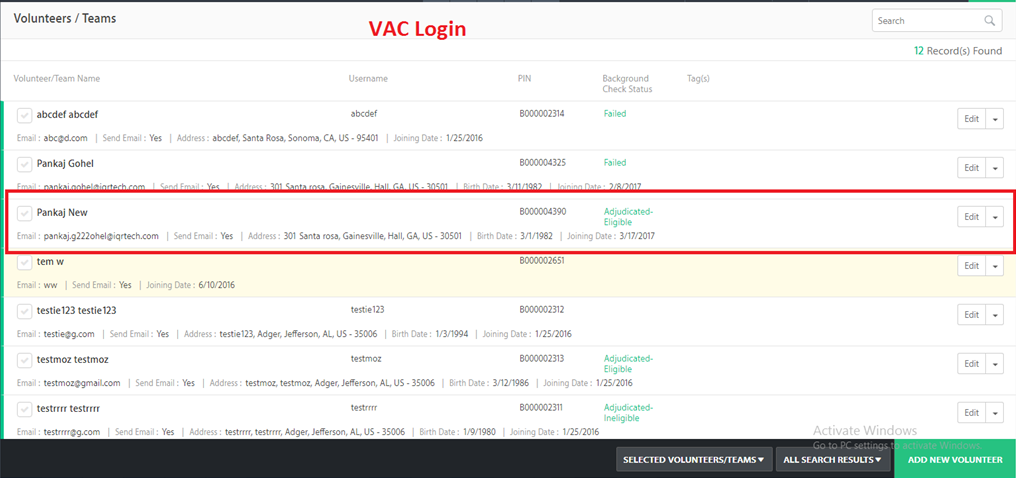 The partner organization will also be able to view the history of the volunteer's background checks by clicking on background check status.

Verified Volunteer Status as Search Criteria
We have also provided a new volunteer search criteria which is based on the Verified Volunteers Status.