Connect - CRM Sync
The initial link between the two systems for every contact record, starts with the contact/volunteer being entered from Connect and then the system matching to a record in the CRM (or creating a new record if it can't find a match).
SYNC FLOW:
A contact is entered into Connect
Connect uses the CRM duplicate prevention settings to look for a match in the CRM - if it finds an exact match using the duplicate prevention settings, then it syncs to the existing record. If it doesn't find an existing record, then it creates a new record.
Your CRM duplicate prevention settings are set to 1 character of the Last Name + email address.
Once the records are synced, then information will pass back and forth between CRM and Connect - an update in one system will update the record in the other system.
You will have to wait at least for 15-30 minutes to see their migrated data into CRM. This is a two way sync process so any updates made in Synced Volunteer/contact information will be updated in both the system. Again, you'll have to wait at least 15-30 minutes for the sync to complete.
If you want to see volunteer's opportunity related information on CRM side then click on the VolunteerName from list and then click on Layout Configuration button of ContactView page.
Check Fundly Connect Information checkbox from Layout Configuration page.
Go back to contact view page again and here you can see Fundly Connect Information box with opportunities detail.
3 DIFFERENT SYNC CATEGORIES
These can be configured in Connect under General Settings.
Sync Volunteers - Syncs only Volunteer Data to CRM
Sync Organizations - Syncs only org data to CRM
Sync Both - Syncs both Volunteer and organization info to Fundly CRM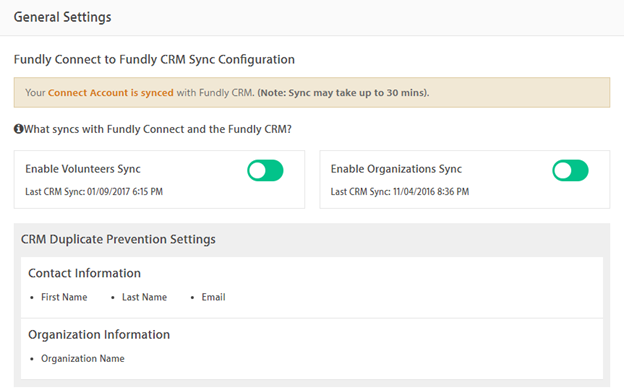 VOLUNTEER SYNC
To turn on volunteer sync, login as the organization and go to General Settings, then activate the "Enable Volunteers Sync" slider. The sync is two-way.
Contact/Volunteer Information
First Name
Last Name
Birthdate
Contact Source
Mailing Address (Line 1/2, City, State, Zip, Country)
Contact Type
Email Address
Primary Email Address
Phone Number
Primary Phone Number
Connect Opportunity Information
Opportunity Name
Owner
Organization
Status
Start Date
End Date
Application Date
Verified Hours
Unverified Hours
Information that Cannot Sync
These items are configurable in CRM while they are pre-configured (system defined) for all the clients in Connect, thus sync cannot occur.
Prefix
Suffix
Gender
Phone Type
Email Type
ORGANIZATION SYNC
To turn on volunteer sync, login as the organization and go to General Settings, then activate the "Enable Organizations Sync" slider. The sync is two-way .
Once sync is enabled, organizations already in the database will sync, as well as the newly added ones.
Organization Information
Name
Website
Mailing Address (Line 1/2, Country, Zip, City, County, State)
Email
Primary Email
Phone
Primary Phone
Phone Use for Comm.
Important points to remember:
Merging records in the CRM will put the CRM-connect sync on hold until the merge is complete. As it can take 30 minutes per merge initiated to merge records, this means no updates between the CRM and Connect will occur during that time. So after merging records you may notice delays in updates, but the updating/sync should resume once the system has finished processing all merges.
If two contacts are householded, and the primary contact's email is updated, it will update on the secondary contact's record and if the secondary contact is synced to Connect, then it will update connect as well.